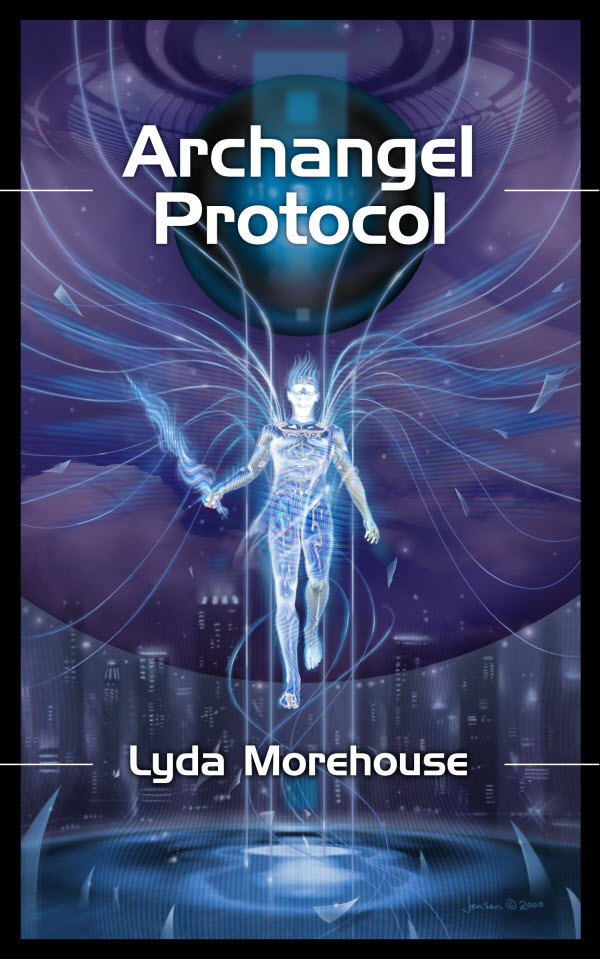 It is Presidential election time in the USA, and once again the debate is dominated by religion. But this is the near future, and the candidates have good reason to trumpet their belief in God.
The LINK–an interactive, implanted computer network–transformed society. Then came the angels–cybernetic manifestations that claimed to be the working of God's will. And if angels exist, surely God does too. The only question is, which candidate does He favor?
Deidre McMannus used to work for the NYPD. Then her partner assassinated the Pope. Deirdre has been kicked out of the force and had her LINK implant removed. An Irish catholic with a brother who is a priest, she has never believed in the angels. All that will change when a handsome young police officer named Michael Angelucci appears at her door and gives Deidre the chance to right the wrongs that have been done to her–and to the entire world….
The first volume of Lyda Morehouse's acclaimed debut series, AngeLINK, will shortly be available in ebook form for the first time. Huge thanks to Lyda for letting me publish it, and to Bruce Jensen for letting us have updated versions of the original artwork for the series.
On it's first release in 2001 the book won Best Original Paperback P.I. novel at the Shamus Awards given by the Private Eye Writers of America to honor excellent work in the Private Eye genre.
See the Wizard's Tower Press website for some of the stellar reviews that the book got first time around.